Welcome to the FairyABC Wiki!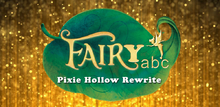 This is a Wiki dedicated to all things FairyABC! Find news, events, updates, and all things happening around the Hollow!
FairyABC is a 'rewrite' of the popular Disney Fairies game, Pixie Hollow.
What is FairyABC?
FairyABC is a fan-made revival of Disney's virtual online world, Pixie Hollow. It was created publicly using downloads and information available to the general public. It also has a forum feature that was not part of the original Pixie Hollow, allowing users to post and create their own profiles. It currently has over 31,000 users.
Special Thank-You
I would like to extend warm gratitude towards Fandom user Tortoisecat5. I know this wiki doesn't get updated much anymore, and hardly anyone checks it, but we do still get occasional vandalism and it's these helpful and kind users who check back on websites that haven't been updated in 3 years that really keep the world turning. Good on you, Tortoisecat! Keep it up!
Helping Out
We are currently housing 13 articles, and 29 files.

We need you to help us expand and add articles to this wiki!

For starters, please sign up to create a free personal account, or log in if you already have one.
---
If you already have editing experience, and you would like to contribute an article relating to FairyABC, use the box below to create it: <createbox>width=30</createbox>